Many of us have been in the position of needing/wanting a bit more living space in our homes. Not everyone has the money or the property foot print to add on to their home. A cost effective alternative to this huge undertaking is to finish your basement. You can add living space with very little upheaval in your existing home. Basement remodels can be very exciting projects for you and your family. Your options are endless with this space. You can make it one large open space or many spaces that serve all of your family's needs.
Many of us remember the "finished" basements of the past that consisted of a throw rug and some wood paneling slapped onto the walls with a TV and a smelly couch. Todays finished basement is truly an extension of the home and usable living space. You can transform your basement into many different types of spaces:
Reclaim your existing living space from the kids by adding a playroom with built in storage options to keep the toys organized and out o the way.
Expand your living area by adding a Family Room for a second place for your older children to hang out in or as a TV / theater room
Save money on your monthly gym membership by adding a custom exercise room and work out in the privacy of your own home with all of the same luxuries including a sauna.
Convert this space into an In Law Suite, Home Office or Man Cave
Add a Full or Half Bath
Organize your basement storage with custom shelving
Add custom built-ins for a bar area, entertainment center, mini kitchen, etc. These spaces can also double as creative storage.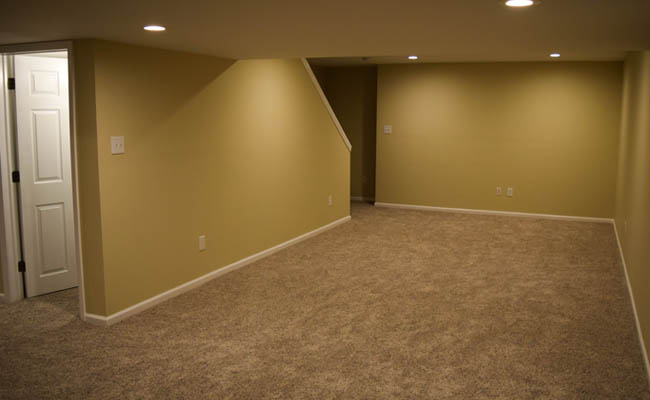 Make your basement remodel an extension of your living space by continuing your décor and style into the basement space. Install a glass panel door at the entrance to the basement. Adding regress window wells into this area makes it safe and adds a touch of natural light that makes it feel less like a basement.
We install DRI-Core sub flooring in our basement remodels. The airflow it creates ensures a warm, dry basement. It will even increase the temperature of your finished floor surfaces by up to 5 degrees.
When hiring a contractor to finish your basement, you should consider how familiar they are with the codes in your town as they apply to basement living spaces. This includes where egress windows are needed, how your basement needs to be framed, and fire blocking and insulation requirements. You might want to also make sure that your contractor is familiar with creative ways to route your utilities so that they do not interfere with the living space as well as lighting and heating and air conditioning options that work for your space.
Housefitters can walk you through every step of your basement remodel. Taking your family's needs, budget and space available, we can help you map out the perfect layout for your new living space. We can even design custom built-ins and shelving. Call today for a free estimate and let us get you started on utilizing the space in your home to its full potential.